Reasons to set a financial plan
Defining a financial plan is essential for an individual, family or organization to achieve financial well-being. Whatever your goals, preferences, age or current situation.
Financial planning allows each one to define multiple financial goals over different periods. This plan makes us less likely to react emotionally and hastily to situations that occur. Good financial planning therefore means ensuring control and understanding the implications of each decision making.
WHAT IS FINANCIAL PLANNING?
A financial plan should be seen as a map. It is a personalized guide that considers our current situation and future goals. It should include an assessment of total assets, including assets and liabilities, disposable income and current expenses, taxes, individual risk management and retirement planning.
Each plane is unique, we are all different. However, all plans should help answer questions such as:
What is our current financial situation?
Where do we want to go?
And how are we going to get there?
MAIN REASONS TO BUILD A FINANCIAL PLAN
Knowing our current financial situation: Not knowing where our personal finances are can lead to wrong decisions and difficult times. The financial plan will help to set goals and better understand the pattern of consumption and income.
Plan to better face unexpected events and unexpected risks: Unexpected events…happen. From an unemployment situation to health situations or accidents. Although unexpected, care must be taken and the creation of an emergency fund and a systematic savings plan help to establish rules and appropriate protection.
Identifying opportunities and setting realistic goals and objectives for the future: Setting goals and objectives is essential. But it is even more essential that these goals and objectives are realistic. Through financial planning, we can detect opportunities at the financial and fiscal level, for example, that can help achieve these goals.
Increase confidence and peace of mind: Good financial planning increases our confidence and motivation. It allows us to face the future with optimism and security, contributing to a more rational behavior and less subject to emotional errors.
GUIDE TO BUILDING THE FINANCIAL PLAN
To build the financial plan, we put together all the pieces of the financial puzzle, including current and future expenditures and income, the value of human capital, total wealth, long-term goals, and our restrictions and preferences.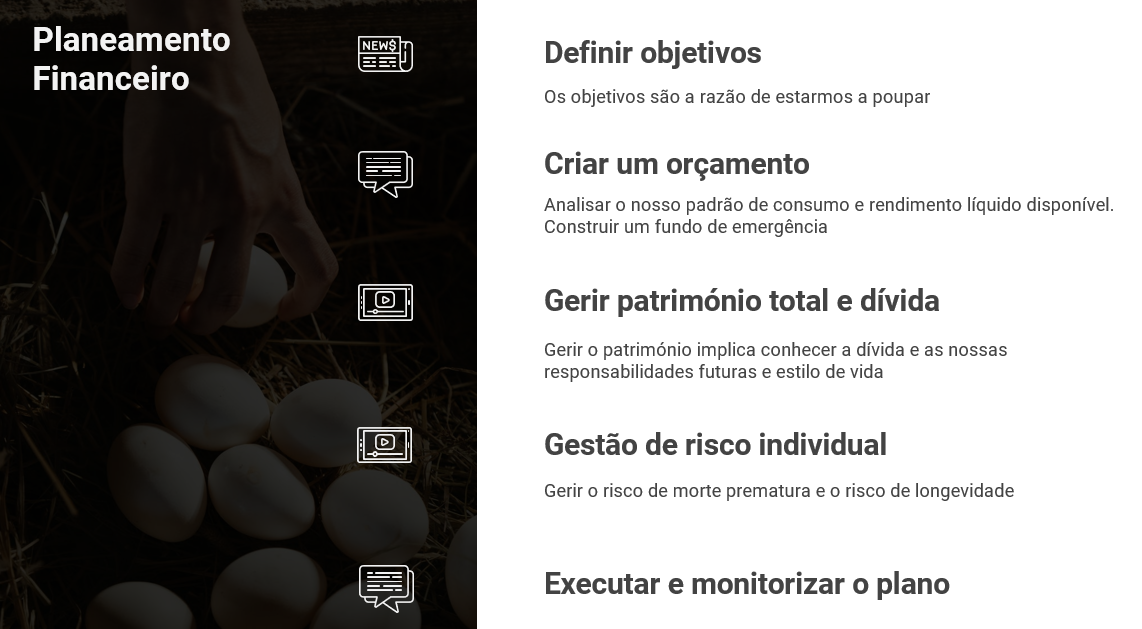 First, let's define the set of financial goals to achieve. We want to save to reach a certain equity value, to keep our level rising in the future, to meet consumption needs further ahead.
By analyzing our monthly expenses, we were able to build a budget. It is enough to analyze the last three to six months to understand our consumption pattern and the places where we spend money. Comparing our net disposable income with the aforementioned consumption pattern, we immediately realize what the savings amount is and whether or not it can increase.
In this consumption pattern, we must not forget the taxes and the unexpected situations for which we must build an emergency fund. Ideally, this emergency fund should be from 6 to 12 months of our monthly budget.
As mentioned in this article, knowing the value of total assets also implies managing debt and our future responsibilities.
Financial planning also includes individual and financial risk management. Mainly in the management of the risk of premature death, which can jeopardize the well-being of our dependents, and the longevity risk, which highlights the importance of the correct planning of retirement and of our lifestyle in the future.
SET OF OBJECTIVES TO BE DEFINED IN A FINANCIAL PLAN
In order for the plan to become clear and feasible, it is important to define goals and objectives.
Reform is perhaps the most important objective and the one in which there is more information and interest.
However, good financial planning can and should encompass other goals, such as:
Education;
Health protection;
Vacations and travels;
Insurance for risks related to loss of income or related to life, as explained in another article on the level of tolerance to financial risk;
Taxes;
Plan the inheritance or donations;
Investment in own business;
Investment in real estate, art or other alternative assets to diversify a source of income;
Establishment of an emergency fund, guaranteeing a reserve for unexpected events or expenses.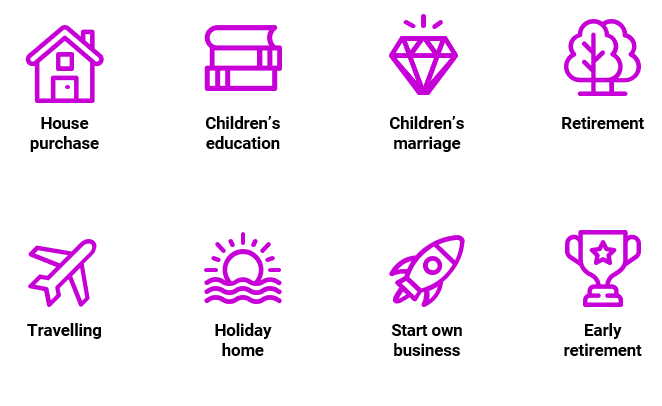 THE IMPORTANCE OF FINANCIAL LITERACY
Financial education is increasingly important and is gradually gaining media space in Portugal. Either because there is in fact a knowledge deficit that jeopardizes individual well-being and economic and social development, or because savings solutions are increasingly complex and different from the traditional offers of term deposits and treasury bonds.
It is also notorious the different motivations we have and the greater complexity of our day-to-day activities, namely at the level of consumption and income flexibility.
That's why it's essential that we look for more and better knowledge.
To contribute to this process, Future Proof has been making available some tools such as the blog and, more recently, the podcast Future Proof Talks.
However, it is also important to highlight other platforms and initiatives that are doing a lot to develop financial literacy in Portugal:

The financial plan is important at any time, even more in times of uncertainty and great cultural, social and economic shocks like those we are currently experiencing.
Having a financial plan is having a path and knowing what to decide when no one decides or wants to decide. It's looking to the future and not to the past. Its planning not to fail!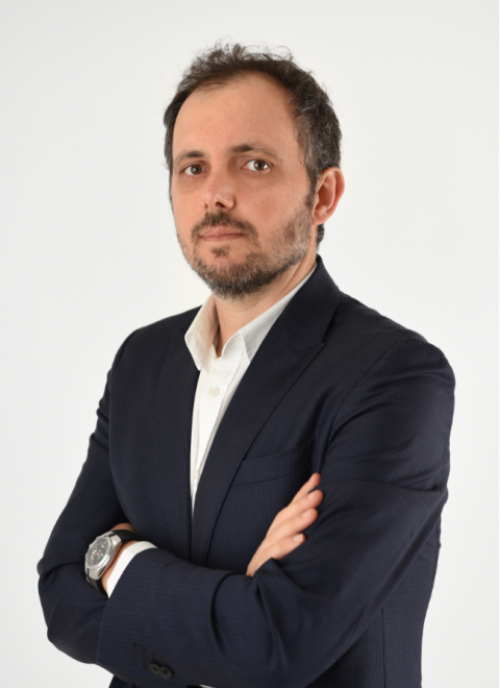 Vítor Ribeiro, CFA
Vítor is a CFA® charterholder, entrepreneur, music lover and with a dream of building a true investment and financial planning ecosystem at the service of families and organizations.
All articles
+351 939873441 (Vítor Mário Ribeiro, CFA)
+351 938438594 (Luís Silva)
Future Proof is an Appointed Representative of Banco Invest, S.A.. It is registered at CMVM.