Advisor's role: how the advisor can help the investor
The financial advisor is intended to help investors develop a personalized financial plan and make the best investment decisions to achieve their goals.
A plan, not being a static and rigid element, serves to be prepared for what we know can happen, but we think it will never happen.
We must realize that there is an important balance between reasonableness and rationality. Balance that allows us to maintain motivation, focus and patience for the future while enjoying a lifestyle adjusted to our reality in the present.
The role of the Financial Advisor
It is in this context that we highlight the role of the financial advisor.
To plan and manage investments and to make the right decisions it takes time, knowledge, will and dedication. Sometimes we devalue this work and confuse knowledge and dedication with tips from friends, account manager information and Google searches.
Other times we even managed to do this work by ourselves using specialty apps.
But, in most cases, it is even better to use specialized professionals.
An advisor does not only recommend the appropriate and appropriate financial instruments to the investor. It also has a duty to monitor and follow up and to keep the investor informed of changes that occur in the portfolio and in the market that may jeopardize the investor's goals and preferences. An ethical commitment, based on trust and care.
Ask yourself the following questions:
Should I or should I not hire a financial advisor?
If I don't hire a financial advisor, will I do this work myself?
One of the common factors that can be decisive in the decision to use a financial advice service is the time factor. Lack of time leads us to neglect financial matters, postpone decision-making, prolong bad decisions and make mistakes that can jeopardize individual and family well-being and the cost of which can be much higher than the cost from a financial advisor.
It is also common to mention that financial planning work (personal finance) is not a motivating job for many people given its complexity and duration. It's not unique. Not just done once. It is a continuous work, of investigation, selection, follow-up and monitoring and adjustment when necessary.
If it is not possible to develop this work on your own, go to the next question.
How should I select a financial advisor?
To answer, use the following guidelines:
Define which services you need to hire;
Select the type of advisor you need and how much you can pay for your services;
Look for references, information, and financial advisor credentials;
Interview multiple financial advisors.
In the selection of the type of advisor, it is important to pay attention to whether the advisor works independently or not, whether he provides investment consulting services or discretionary wealth management.
To find out more about these types of services you can consult our Vocabulary and Services section.
The following table summarizes the main differences between the simple order reception and transmission service and the investment advisory service.

The advisor's added value
Making decisions about money is an emotional act. An investor who hands over the management of his financial future to a financial advisor is trusting him and assuming that the advisor will always pursue the individual interests of the investor and his family.
Unlike the return and the evolution of asset prices, personalization and expectations regarding the service are aspects that the financial advisor is able to control and also one of the most valued by investors.
Therefore, evaluating the financial advisor's work is not just an exercise in comparing market performance and portfolio performance. There is a set of more or less subjective criteria that are related to the specific objectives and preferences and unique circumstances of each investor.
Advisor's added value is also visible in holistic and integrated financial planning. This top-down approach allows you to see the integrated and complete position, the various scenarios and preferences, know and understand the investor, and finally design a truly optimized and customized solution.
Vanguard, in a white paper called "The Advisor's Alpha", demonstrates that, in quantitative terms, an advisor can add up to 3% in net return to the investor's portfolio, depending on the specific circumstances and preferences of each investor.
A proposta de valor do financial advisor

Source: Vanguard
The value proposition of financial advice is changing. And the nature of younger investors, their needs and priorities, their goals and preferences has contributed a lot to this change.
The era of technology, Fintechs, sustainable investment with impact and do-it-youself, represents for the financial advisor an opportunity to build trusting and personalized relationships with investors - more human to human.
We summarize below some of these characteristics that together form the advisor's value proposition:
Long-term financial planning;
Behavioral Coaching / Behavioral and financial coaching;
Adequate and diversified strategic allocation;
Control of strategy implementation costs;
Location and taxation of investments;
Rebalancing;
Integration and reporting.
Long-term financial planning includes savings as well as lifestyle expectations and an income or total return strategy.
It is goal-based advice, which allows the investor to set multiple financial goals over several investment time horizons.
Setting goals makes investors less likely to react to market changes. If we are working towards a goal or objective, and not looking for returns to beat the market or a benchmark, emotional and hasty decision-making is substantially reduced.
As we have already mentioned, investing is often an emotional act, so the advisor must help the investor to maintain a long-term vision and a rigorous approach to the defined plan. Several studies demonstrate that the advisor's work is essential in achieving the objectives and maintaining the defined course.
A significant part of the poor performance or the results below the expectations of the investors' portfolio is explained by the behavioral component, by the mistakes in decision making. What we call the behavioral gap.
Implementing financial coaching means helping and communicating with investors to ensure control of emotions.
Conclusion: Where do financial advisors generate value?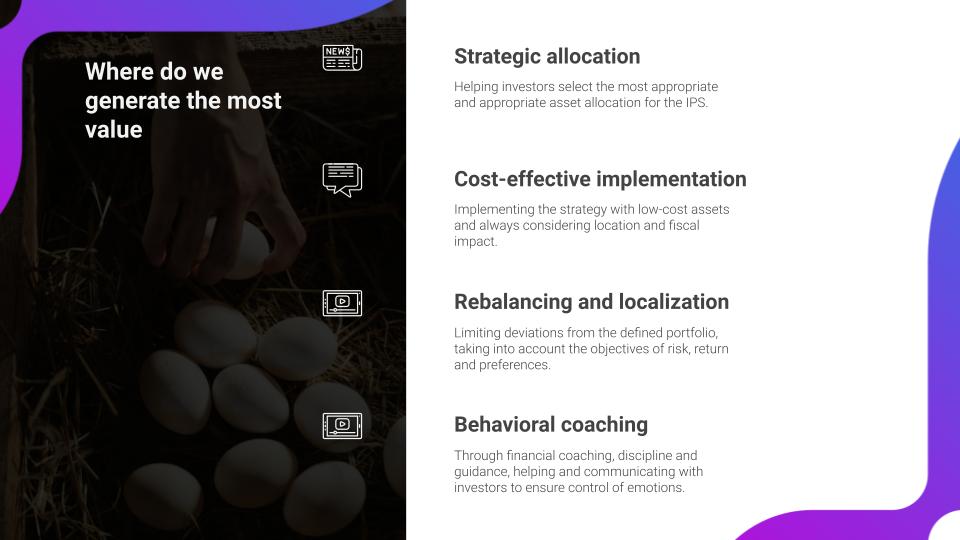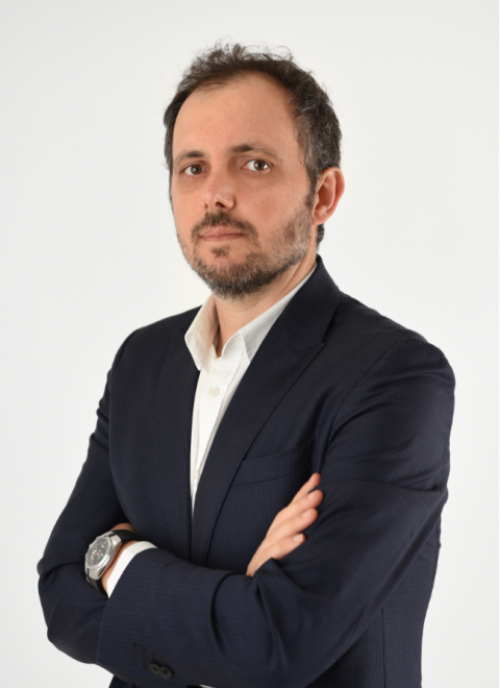 Vítor Ribeiro, CFA
Vítor is a CFA® charterholder, entrepreneur, music lover and with a dream of building a true investment and financial planning ecosystem at the service of families and organizations.
All articles
+351 939873441 (Vítor Mário Ribeiro, CFA)
+351 938438594 (Luís Silva)
Future Proof is an Appointed Representative of Banco Invest, S.A.. It is registered at CMVM.